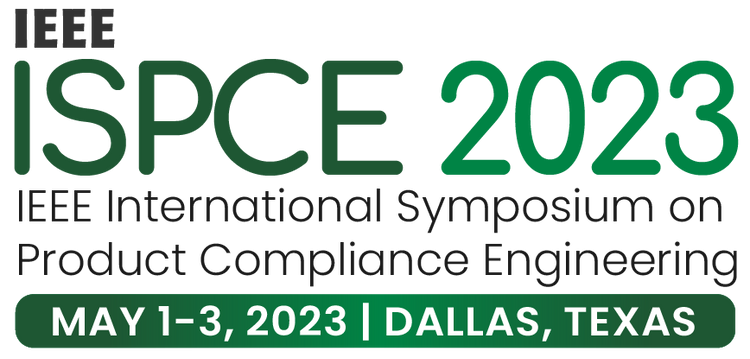 IEEE International Symposium on Product Compliance Engineering 2023
May 1 - 3, 2023
Dallas, Texas, USA
Formal Paper/Reviewable Presentation Submission Deadline

Acceptance Notification Deadline

Final Paper/Presentation Submission Deadline
ISPCE 2023 Welcome Message
Welcome to ISPCE 2023 in Dallas, Texas, our second ISPCE Face-2-Face conference following the COVID pandemic.
We are excited about ISPCE 2023, the 19th such event, and hope everyone is ready for a fantastic experience from the stimulating programs, professional networking with colleagues and friends, not to mention great food.
On behalf of the entire conference management leadership team, we hope the event exceeds your expectations.

Many of you have attended past ISPCEs, but for others, this will be your first experience. We are committed to building on our highly regarded technical programs to satisfy your professional interests.

Our event Technical Committee Chair, Secretary and Technical Program Chairs have assembled another great program that will inspire a broad array of interests, which include basics covering "Product Safety 101", to topics covering the latest global regulatory issues.
We are also proud to feature our conference opening keynote speaker, Bharat Rajaram, of Texas Instruments. Bharat is Director of Functional Safety, and a Senior Member, Technical Staff. He is presenting a timely subject, " Functional Safety – An IEC 61508 overview and 'important' techniques to analyze solid-state, end-product integrated semiconductor components according to ISO 26262".
We want this to be a rich experience for you and a benefit to your company.

This conference is dedicated to engineers, administrators, entrepreneurs, and leaders developing and manufacturing safe and compliant products marketed in virtually any region of the world. Perhaps the most lasting impact of our conference is the opportunity to meet and develop relationships with other professionals that will last throughout our careers. While technology and society will always change and provide challenges, our planned PSES events will help in dealing with the challenges.

We want to say thank you to all our exhibitors, patrons, and corporate sponsors for their continued support essential to the success of this conference, along with our technical and general committee members and Conference Catalysts for their help in planning for this event.

Welcome… Enjoy the conference!
Arc Flash
Codes & Standards Development
Cybersecurity
EMC & Wireless Compliance
Energy Efficiency Codes Engineering & Safety Science
Importance of Ethics for Effective Compliance
Forensics, Failure & Risk Analysis
Global Market Access
Hazard Based Safety Evaluations
Introductory or Advanced Design for Compliance
Legal Regulations, Directives & Consumer Protection
Product Labeling
Batteries & Energy Storage Systems
Compliance Management, Compliance and Technical, Documentation Management
Data Center Safety
Emerging Technologies & Innovations
Environmental Regulations, Sustainability & Circular Economy
Field Inspections & Evaluations
Global Hazardous Locations
Grounding & Bonding
Instrumentation and Laboratory Equipment
Laboratory Safety
Medical Devices
Safety of Education and Healthcare Facilities